Invisalign®
Treatment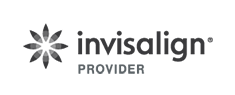 Today is the best time to straighten your teeth with the most technologically advanced clear aligner in the world. Dr. Dunn is a proud certified provider of Invisalign clear aligners. Invisalign is a revolutionary product that offers you a clear, convenient, and enjoyable alternative to obtain the smile you have always dreamed of.
WHY INVISALIGN TREATMENT?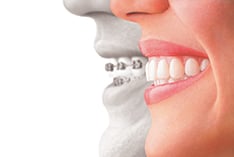 Faster treatment: Invisalign offers the fastest visible results through the use of aligners that can be changed out weekly. This treatment gets you closer to your goal faster than any other. Depending on the way your body responds to treatment, Dr. Dunn may prescribe longer periods between aligners.
Proven results: Invisalign's proprietary developments such as SmartTrack® material and SmartForce® features are clinically proven to offer more precise and predictable tooth movement.
Better fit: Aligners are custom-made to fit your mouth specifically. They can be taken out and put back in with ease and are comfortable while wearing them.
Effective: Invisalign clear aligners are proven to treat a variety of orthodontic conditions including crossbites, crowding, open bites, gapped teeth, overbites, and underbites.
Virtually invisible: as implied in the name, Invisalign clear aligners are virtually invisible.
Comfortable: The clear trays are smooth and comfortable to wear all day. They also blend seamlessly into your everyday routine because you can take them out to brush, floss, eat and drink.
Convenient: With Invisalign, there are no adjustment appointments, only quick and easy progress checks every 6-8 weeks.
THE INVISALIGN TREATMENT PROCESS
YOUR FIRST CONSULTATION
During your initial consultation, Dr. Dunn will examine you and talk to you about your diagnosis and cosmetic goals. Based on her evaluation, she will determine if you are eligible for Invisalign treatment.
YOUR CUSTOM TREATMENT PLAN
Using the iTero® digital scanning system, we will create detailed 3D images of your teeth and surrounding structures. These images will then be used to establish a road map for your treatment including step-by-step movements of your teeth. Once this is done, you will know how long your treatment is expected to last and you will even get to view a digital model of your new and improved smile.
YOUR INVISALIGN CLEAR ALIGNERS
Invisalign clear aligners are made of a proprietary material called SmartTrack®. This material is flexible and practically invisible.
You will be instructed to wear your clear aligners for between 20 and 22 hours per day. We recommend removing your aligners only to eat, brush, and floss. Following this instruction will give you the best results in the least amount of time possible.
Your Progress
As you go through each set of aligners, your teeth will begin to shift little by little into their new positions. Typically, patients begin switching to a new set of aligners each week. Dr. Dunn will check your progress every six weeks and make changes to your aligner schedule as necessary.
TAKING CARE OF YOUR NEW SMILE
Once you have completed your treatment, your job is not quite done. After treatment, you will enter the retainer phase and Invisalign will be there for you with an innovative solution. Vivera® is the custom-made retainer that features the same revolutionary technology as Invisalign clear aligners.
If you are ready to find out more about the Invisalign system and if it is right for you, schedule your initial consultation today.
Invisalign and the Invisalign logo, among others, are trademarks of Align Technology, Inc., and are registered in the U.S. and other countries.