What
Sets Us Apart
At Dunn Ortho, Your Smile is Our Passion!
Our smiles touch every part of our lives. They open doors, forge connections, and leave a lasting impression. When our teeth are healthy and properly aligned, we are more comfortable in our appearance, which increases our self-esteem and the confidence with which we greet the world.
Choosing orthodontic care is choosing to transform your life: treatment provides a lasting improvement in your oral health and a smile that's functional, healthy, and ensures your confidence shines in every interaction!
If you're ready for that change – for a smile you love to share – Dr. Curtis Dunn and our team are ready to make it happen!
What's Different At Dunn Orthodontics?
Dr. Dunn and our team are experienced professionals. We are also warm, friendly, and passionate about the life-changing care we provide. Every day we watch our patient family gain confidence and comfort with their appearance, becoming more outgoing and happily engaging with their peers,
We are High Touch: Each patient is treated based on their individual needs and goals. By seeing patients foremost as people, we ensure we are meeting all of their needs, beyond creating a healthy smile. This starts with the initial consultation, where we learn about the person's goals, life, and concerns. Following their exam, Dr. Dunn designs a treatment plan that is comfortable, efficient, and will deliver lasting oral health and a smile that's filled with confidence!
We are High Tech: Utilizing advanced technology ensures minimal discomfort and the best outcomes. We use 3D Come Beam imaging for diagnosis and treatment planning, iTero® scanning for appliance construction without uncomfortable impressions, and 3D printing for timely delivery of aligners and retainers. Taken together, our technology provides the best treatment experience and strongest finished smiles!
We Offer Leading-Edge Treatment Options: Dr. Dunn is a Board Certified Diamond-Level Invisalign® provider. His experience and skill at utilizing these fully customized clear aligners to treat even complex cases is unparalleled!
We are Customer Oriented: We want our patients and families to enjoy every moment of the orthodontic experience, from the initial phone call to schedule their consultation to final retainer check. Our team is committed to providing an upbeat and supportive environment, where we anticipate people's needs and exceed their expectations!
Dunn Orthodontics is proud to announce that we are now providing a complimentary shuttle service to bring our school age patients to their appointments. Just one more added convenience to make your experience the best it can be!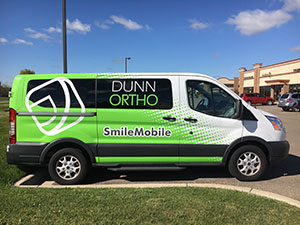 Schedule a Complimentary Consultation
Please contact one of our two orthodontic offices, in Woodbury and Cottage Grove, MN, to schedule a no-charge, no-pressure consultation with Dr. Dunn.
We all look forward to welcoming you to our orthodontic family; we can't wait to see your best smile! Call, today!